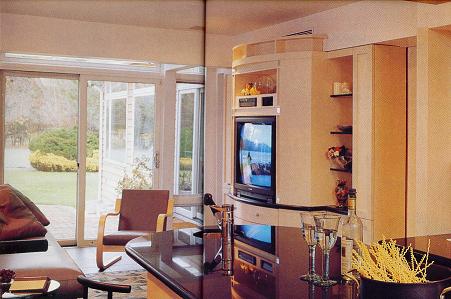 Sliding Patio Screens
With the exception of the front door, the patio door is probably one of the most used openings in the home.
The quality A-Screens retractable sliding patio door screen is a convenient and tasteful addition to any exquisite interior. Unlike the cumbersome, ratty, framed, sliding screen doors, the top of the line quality A-Screens retractable screen opens and closes with ease, without a screech! No frame to bend, no wheels to stop turning, and if you walk into the retractable door, it simply retracts out of the way into the housing. Designed to suit your needs, A-Screens screens help bring the outdoors indoors. Depending on the width of your opening you may need one screen or or two, but you will get the comfort of A-Screens retractable screens. No more Virus infected mosquitoes, bugs, flies, those annoying spiders, just the breeze!
When not in use, there is no annoying mesh to look through since the screen will be retracted into its housing which blends beautifully into the décor of your home making it virtually invisible.
Stop the bite, install your tasteful, quality A-Screens retractable screens today!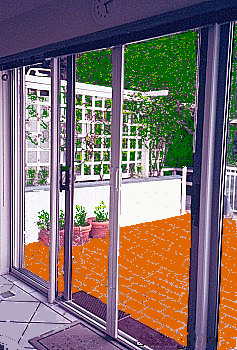 Convenience and Functionality:
Fully retracts into protective aluminum housing.

Low or no maintenance.

Glide rails engineered for smooth opening and closing.

Low profile handles designed for a modern, classy and unobtrusive look.

Variety of meshes to fit your needs and taste, including noseum for very tiny, noseum bugs and solar weaves when you want to also cut on the amount of sun entering your home

.

And we are now happy to offer a pet-proof mesh, stronger to resist our best friends ( dogs, cats and others) friendly attacks!
Durability:
| | |
| --- | --- |
| | Pull bars ribbed for reinforcement. |
| | Stainless steel screws to resist corrosion. |
| | Housing caps sealed to protect inside components and self-protection when the screen is not in use. |
| | UV protected plastic for longevity. |
| | Injection molded nylon, precision fits to aluminum extrusions. |
| | No recycled material used. |
Safety:
| | |
| --- | --- |
| | Bumpers for finger pinch protection. |
| | No sharp edges |
Other A-Screens retractable Screens:
| | |
| --- | --- |
| | French Door Screens |
| | In-swing Door Screens |
| | Out-swing Door Screens |
| | Reachable Skylight Screens |
| | Sliding Patio door Screens |
Order your A-Screens retractable door and window screens today,

A- Screens, by C. Anderson as cool as a summer breeze.
Pricing
| Description | SKU # | Order |
| --- | --- | --- |
| up to 90" | ASPS-001 | Please call |
| 91"to 98" | ASPS-002 | Pease call |
The colors available are:
<![if !vml]>

<![endif]><![if !vml]>
<![endif]> White
<![if !vml]>

<![endif]> Linen
<![if !vml]>

<![endif]> Coffee Tan
<![if !vml]>

<![endif]> Sandalwood
<![if !vml]>

<![endif]> Brown
<![if !vml]>
<![endif]> Black
<![if !vml]>

<![endif]> Grey

*Color samples may vary slightly, depending on your monitor settings.
Please note: there is a $30 up-charge for color.
Tel: 1 (888) OK-4-SCREENS (888) 654-7273
For self installation , if you require technical assistance and wish to send us a picture of your door, please send to: photos@AScreens.com

| | |
| --- | --- |
| Name | |
| Title | |
| Company | |
| Address | |
| E-mail | |
| Phone | |