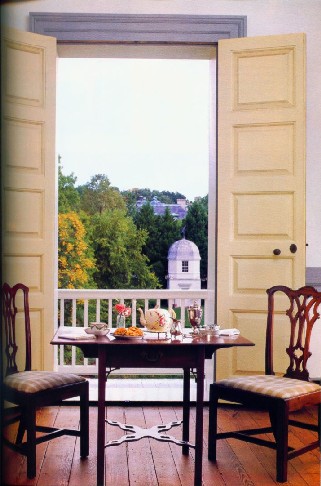 In-swing double door
In-swing Door Screens
Until the innovation of the A-Screens quality retractable door and window screens, in-swing doors were screened using awkward swinging screens. Most of us can remember the sound of a swinging screen door banging in the wind and it being difficult to keep open when necessary. Today, the A-Screen quality retractable door and window screens make that cumbersome, rigid and tasteless screen door history: the A-Screens retractable door screen retracts out of the way when it is not needed. And with a variety of colors, it fits beautifully into the décor of your home. The A-Screen retractable screen is sleek, pleasing to the eye and the touch, with a soft finish.
A-Screens quality screens open and close smoothly, a quality product made of durable materials. The perfect replacement for the swinging or screechy sliding screen door! A-Screens are screens that retract, they are NOT DOORS!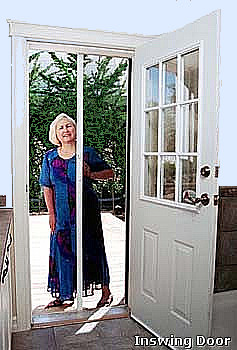 Convenience and Functionality:
Fully retracts into protective aluminum housing.

Low or no maintenance.

Glide rails engineered for smooth opening and closing.

Low profile handles designed for a modern, classy and unobtrusive look.

Variety of meshes to fit your needs and taste, including noseum for very tiny, noseum bugs and solar weaves when you want to also cut on the amount of sun entering your home

.

And we are now happy to offer a pet-proof mesh, stronger to resist our best friends ( dogs, cats and others) friendly attacks!
Durability:
| | |
| --- | --- |
| | Pull bars ribbed for reinforcement. |
| | Stainless steel screws to resist corrosion. |
| | Housing caps sealed to protect inside components and self-protection when the screen is not in use. |
| | UV protected plastic for longevity. |
| | Injection molded nylon, precision fits to aluminum extrusions. |
| | No recycled material used. |
Safety:
| | |
| --- | --- |
| | Bumpers for finger pinch protection. |
| | No sharp edges |
Other A-Screens retractable Screens:
| | |
| --- | --- |
| | French Door Screens |
| | In-swing Door Screens |
| | Out-swing Door Screens |
| | Reachable Skylight Screens |
| | Sliding Patio door Screens |
Order your A-Screens retractable door and window screens TODAY!
A- Screens, by C. Anderson, as cool as a summer breeze!
| Description | SKU # | Order |
| --- | --- | --- |
| up to 90" | ASIS-001 | Please call |
| 91"to 98" | ASIS-002 | Please call |
<![if !vml]>

<![endif]>The colors available are:
<![if !vml]>

<![endif]> White
<![if !vml]>

<![endif]> Linen
<![if !vml]>

<![endif]> Coffee Tan
<![if !vml]>

<![endif]> Sandalwood
<![if !vml]>
<![endif]> Brown
<![if !vml]>

<![endif]> Black
<![if !vml]>
<![endif]> Grey

*Color samples may vary slightly, depending on your monitor settings.
Please note: there is a $30 up-charge for color.
Tel: 1 (888) OK-4-SCREENS (888) 654-7273
For self installation , if you require technical assistance and wish to send us a picture of your door, please send to: photos@AScreens.com

| | |
| --- | --- |
| Name | |
| Title | |
| Company | |
| Address | |
| E-mail | |
| Phone | |