Maintenance Tips
To ensure good & smooth operation of the retractable screen's moving parts, keep a can of silicone spray handy. Spray the top and bottom rails after cleaning, keeping the rails lubricated and free of dirt. This maintenance procedure should be done also at the beginning of every season, when you put your screens to use!
Do not scrub the aluminum parts as this may damage the painted surface, and no harsh chemicals. Just use a wet cloth if dirty.
If you should need to clean the screen, vacuum it lightly with an upholstery brush, taking care not to snag the screen material.
Warranty Information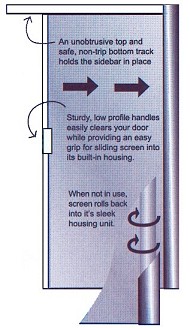 A- screens, Inc offers a limited lifetime warranty on all components, excluding the screen mesh. Defective components will be replaced free of charge for up to 30 days from the date of purchase. If installed by one of our installers, after 1 year A- Screens will provide replacement components for a fee, and a service installation charge will apply.
This warranty is valid when your A-Screen Retractable Screen is installed by one of our authorized installers. If a component of your A-Screens Retractable Screen is defective, please report this to customer service within 30 days of purchase, or to the dealer/installer immediately!
This warranty applies only to the original purchaser in residential installations and is not transferable to another party. The retractable screen cannot be altered, modified or moved in any way.
This warranty does not cover damage caused by misuse, abuse, scratching, airborne or applied corrosive contaminants, tornadoes, hurricanes, acts of God or other causes beyond the control of A-Screens, Inc.
This warranty only applies to defects that impair the function of the retractable screen.